Digital Banking Statistics UK Edition [2023]
Do you catch yourself thinking, "Trevor, what is digital banking?". Or perhaps wonder, "Helen, in the third decade of the 21st century, do you even know how to do online banking?" Perhaps you want to know what makes for the best internet banking in the UK? Well, you've come to the right place to have all of your questions answered.
Digital banking services are increasingly present in the UK, with digital-only banks or neobanks gaining millions of new users each year. What digital banking statistics UK show is these digital disruptors of the financial market are to grow even further at the expense of physical branches.
The time is surely ripe to get on the online banking train, and really has been so for a while, so keep on reading if you want to find out why! Here is a selection of the most interesting Online Banking Usage Statistics UK:
Top 10 Digital Banking Statistics UK
76% of people were using internet banking UK-wide in 2020.
51% of adults aged 25 to 34 have a positive attitude towards a cashless society.
87% of Britons made a purchase online in 2020.
49% of people preferred PayPal as an online payment method in 2019.
A quarter of the UK's population will make in-store mobile payments by 2023.
45% of Generation Z  consumers made a digital or mobile wallet payment in 2020.
In 2021 more men (30%) have a digital-only bank account than women (24%).
46% of Londoners used digital-only banking in 2021.
Around 40% of both young and senior millennials switched to mobile payment in 2019.
In 2021 mobile POS payments should reach 76.5 billion pounds in transaction value.
Digital Banking Statistics UK
What percentage of UK adults use online banking?
Whether their traditional bank's or a digital-only bank's app, the number of Britons using online banking services rose from 30% in 2007 to 76% in 2020.
In 2021, 14 million Britons have an account with one of the digital banks
A little over 1 in 4 adults in the UK (27%) have opened a digital-only bank account by 2021, indicating a threefold growth compared to the 9% share measured by January of 2019.
In 2020 banking was the third most prevalent online activity carried out in the UK
75% of UK surveyors sent or received emails, 58% used the internet for other means of communication, while 54% confirmed internet banking to be one of their online activities in the prior week.
Only 46% of adults in DE households used e-banking in 2019
Among UK adults, the percentage of online banking users was 73% in 2019. Yet, digital banking statistics UK show that the unemployed or those with lowest grade occupations used online banking services much less (46%), indicating a significant socio-economic factor to digital banking use in the UK.
51% of adults aged 25 to 34 have a positive attitude towards a cashless society
Just over half of adults in the 25–34 age group say they would be willing to turn to digital means for all their spending. Of those 16 to 24 years old, 47% would replace cash with appropriate digital services.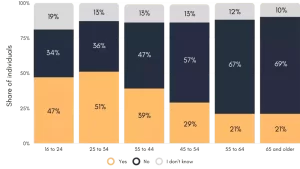 With almost 600 thousand fans in 2020, Barclays was the most popular of all UK banks on Facebook
As of May 2020, Barclays had the most Facebook fans (597k), followed by Santander UK (389k) and NatWest (378k).
Of all UK online banks, Revolut had the most downloaded app in 2019
With 8.36 million app downloads, Revolut was most widespread among UK's best internet banks in 2019. The second and third contenders had half as many — Berlin-based N26 had 4.44 million, and Monzo 4.08 million.
49% of online shoppers preferred PayPal as a payment method in 2019
According to a 2019 Statista survey, almost half (49%) out of one thousand respondents deemed PayPal their go-to method for paying online, helping it overtake credit and debit card payments (37%).
In 2018 66.7% of internet shoppers in the UK shopped via mobile
By proportion of mobile shoppers to all internet shoppers (66.7%), the UK was second to Germany (68%) and ahead of the Netherlands (59.5%) and France (58.5%).
A quarter of the UK's population will make in-store mobile payments by 2023
While 17.6% of smartphone users made a proximity payment in 2018, Digital Banking Statistics UK reveal this share rose to 19.1% in 2019 and is estimated to reach 25.5% by 2023. The future indeed seems bright for UK mobile banking.
Monzo and Startling together took almost 30 thousand regular banks' customers in one quarter
Monzo and Starling exemplify how an internet bank in the UK can take the business over from high-street banks, with more than 21000 and 7000 traditional bank customers switching to their side in the third quarter of 2019, respectively. 
39% of physical bank customers view online and mobile banking as an essential feature
When grading their branch-type banks, 39% of respondents in 2020 identified the bank's app and online banking services as an attractive feature. The most sought after feature was the bank's security (40%). Therefore it'd be safe to assume a high priority has to be put on online banking security, too.
Revolut gained 10 million European customers by 2020
As of February 2020, Revolut was Europe's largest digital bank with 10 million customers, leaving N26 (5 million), Monso (3.6 million) and Monese (2 million) far behind. These numbers are a true testament to online banking popularity.
21% of digital bank customers identified low saving rates as their biggest concern
The second most common complaint that internet bank accounts holders had was a troublesome app (15%), followed by suboptimal customer service experience on the phone (14%) or in-branch (14%).
Digital Banking Statistics UK: Digital Banking User Demographics
45% of Generation Z  consumers made a digital or mobile wallet payment in 2020
Digital banking stats put Generation Z mobile shoppers at the forefront, with Millenials second (32%), then Generation X (28%) and Boomers (20%).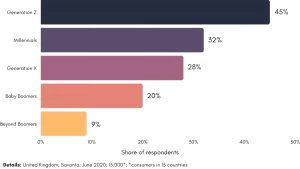 In 2021 more men (30%) had a digital-only bank account than women (24%)
14% of men said they intend to open one before long, as opposed to 8% of women. Since more women (48%) than men (36%) stated they simply do not intend to open an account in any digital-only banks, this gender disproportion might stay a strong one among all the digital banking trends.
46% of Londoners used digital-only banking in 2021
There's not much surprise in finding that in 2021 London's citizens used digital banking services most commonly (46%). The Western Midlands (35%) came in second, and online internet banking wasn't as popular among the people of Wales (19%) or South West England (16%).
Digital Banking Statistics UK: Digital Banking Usage Statistics
Atom Bank accrued 1.7 billion pounds in customer deposits by 2019
From 2017, when customer deposits amounted to 538 million pounds, Atom Bank Group grew almost four times to the 1.7 billion pounds it held in customer deposits by 2019.
Monzo Bank Group lent 124 million pounds to their clients in 2019
While Monzo's customer deposits grew threefold in a year, from 460 million in 2019 to almost 1.4 billion in 2020, the value of loans and advances to their clients reached 124 million pounds for the 2019/2020 period. This growth might very well be a consequence of Monzo being the first to offer a UK online bank account to non-residents.
Atom bank's app had around 230 thousand downloads as of May 2020
In all the measuring periods for the first mobile bank UK could call its own, users accessed the app over an iOS device more often than an Android one. By April of 2020, app downloads amounted to almost 170 thousand for iOS and a little less than 60 thousand for Android devices.
34% of smartphone owners shopped online in the first quarter of 2020
What percentage of mobile phone owners use mobile banking? Compared to the 17% of tablet owners, twice as many (34%) smartphone owners used their device to shop online. This online shopping penetration is just a little better than the lowest one recorded for the 2015–2020 period.
91% of those aged 16 to 24 used internet banking in 2019
In 2019, 16 to 24-year-olds used online digital banking the most (91%), followed by 25 to 34-year-olds (90%) and those 35 to 44 years of age (88%). Online banking was least used by those over 80 years of age, only 18% of them. 
85% of survey respondents confirmed sending and receiving emails, 81% of them used the internet to find information about various goods and services, while 76% used it to manage their internet bank accounts.
Digital Banking Statistics UK: Mobile Payment Statistics
Around 40% of both young and senior millennials in the UK switched to mobile payment in 2019
The share of UK citizens who adopted the mobile app payment method grew in all age groups, most significantly among 18 to 26-year-olds, reaching 41%, and 27 to 37-year-olds, reaching 38% in 2019.
In July 2020, GooglePay had almost 250.000 monthly active British Android users
While this number can oscillate by hundreds of thousands of Britons within a year, a negative trend can certainly be observed when comparing this to the number of monthly active users GooglePay had at the beginning of 2017, almost 1.5 million.
In January of 2021, PayPal had 3 million monthly active UK users
Another interesting gem in Digital Banking Statistics UK is regarding the number of PayPal's monthly active users in the UK, which is steadily on the rise since May of 2020, its lowest point for the last four years when it was just over 2 million.
In 2021 mobile POS payments should reach 76.5 billion pounds in transaction value.
The expected 76.5 billion pounds in total transactions make the average transaction value per UK mobile banking user £5,460.5 in 2021.
87% of Britons made a purchase online in 2020
Online purchasing penetration for Great Britain increased significantly from 53% since first observed in 2008 to 87% in 2020.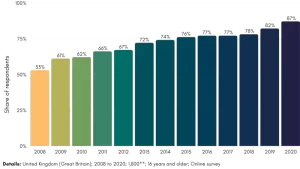 53% of online shoppers enjoy the convenience of comparing prices online
In 2020 most people in the UK were motivated to shop online by the ability to compare prices (53%), but also enjoyed the broader choice of online shopping offers (51%) or felt that it is easier to search and buy online (49%).
Monzo had 4.4 million app downloads in 2020
The most popular disruptor bank in the UK in 2020 was Monzo, with more than 4.4 million app downloads. Out of all digital-only banks' apps, Revolut comes second with a little less than 2.5 million downloads, and Starling Bank is in third place with around 2.2 million. 
Every second person prefers the convenience of digital wallets
When asked why they opt for digital wallets instead of physical ones, 51% said they consider them "really convenient". Almost a half (47%) noted that using digital wallets means they have to carry fewer things, and the same percentage felt it saves them the time needed to take their wallet out.
Digital Banking Statistics UK: Conclusion
In half a decade since pioneered by Atom bank, digital-only banking has gotten very close to becoming the norm for taking care of one's financial affairs. As digital banking statistics for the UK show, the way it permeated British society is through those keenest on adopting change — the youth, the tech-savvy and the more well-off.
With online and digital banking penetration rising, mobile payment will become more prominent, making the notion of a life without cash more conceivable and desirable. What high-street banks will have to do to prevent losing clients to their digital banking challengers is adapt to the digital banking trends these newcomers are setting. For retailers, the main takeaway is this: just as cash made way for card payments as they emerged, so should these two firmly established means of transaction make way for their youngest sibling — mobile payments.
Alert! Your IP address is trackable.