Savings Statistics for the UK [2023]
Have no idea what to do with all this extra money you just can't seem to spend? So funny, I know. Chances are, even if you do have a savings account opened, it's not a hefty one. So, what ought you to do to make it so? And exactly how hefty is hefty enough? Simply put, what are the average UK savings?
In case you are interested in long-term savings key facts, keep on reading!
If you're on the go, try and get the broader picture just from these 10 UK savings statistics we've deemed most interesting:
Top 10 Savings Statistics UK: Editor's Choice
The average Brit had £6,757 in savings in 2020.
22.5 million British households are included in a pension scheme.
To buy real estate in the UK in 2019 cost £728 a month, on average.
60% of adult Brits managed to save enough for retirement in 2020.
The average UK savings for 2019 were £2,061.
66.2% of Brits will hold onto their pandemic savings.
Predictions say UK households are to save 7% of their annual income by 2025.
The average UK income was £29,900 in 2019/20.
The minimum share of personal income to be put aside is estimated at 12%.
 61% of Brits would trust a bank's savings app over a tech-company one.
Savings Statistics UK: Savings Averages in the UK
The average 2018's British adult had £5,200 in cash savings
Savings statistics by age give us a good perspective of the habits Brits, young and old, have to put money aside. For example, adult cash savings accounts held thousands of pounds in 2018, while the average savings amount for British youngsters stood at just over £800.
The disproportion among the two age categories was sixfold regarding savings in stocks and shares — adults averaging to a little over £9,000, the young to £1,500.
The realm of innovative finance savings remained a grown person's sport in 2018, with the median £8,500 saved up in senior savings accounts and no junior accounts whatsoever.
The average stocks and shares ISAs fell from £9,331 in 2018/2019 to £8,875 in 2019/2020
The stocks and shares of individual savings accounts grew from £4,500 in 2010 to £9,600 in 2017. This number dropped for the first time in eight years in the 2018/19 tax year, remaining above the £9,000 mark.
How much should I be saving?
Financial experts estimate the savings to strive for at three months worth of living expenses. Still, national savings statistics for 2020 showed that 40.93% of people in the UK wouldn't even last one month relying solely on their savings.
What are the average savings in the UK?
According to personal savings statistics for 2020, the average UK savings amounted to £6,757. As 9% of Brits have no financial safety net whatsoever and 41% can't afford not to work for even a month, this average doesn't correspond well with reality.
60% of adult Brits managed to save enough for retirement in 2020
The year 2020 saw the largest share of Britain's adult population develop or maintain a savings habit by putting adequate funds aside for the autumn of their lives, surpassing the already record-breaking 59% recorded in 2019.
More than a third of UK citizens saved 25% of their income in 2019
Reassuring to know is that 36% of the British showed a remarkable savings habit by having a quarter of their income saved up and that the majority (44%) met the country's benefit scheme standard. 
62% of Brits aged 50 to 59 save the appropriate amount each month
The minimum share of personal income to be put aside is estimated at 12%. While 40% of those 20 to 29 years old made sound saving decisions in 2019, the share of people adequately saving grows further with age, reaching 62% for people in the sixth decade of their lives.
Employers initiated pension savings for most employed citizens of the UK
Retirement savings statistics by age revealed in 2020 that employers prompted a significant portion of British workers or retirees to start saving by either beginning to pay into their retirement plan/pension (22%) or automatically involving them in an existing retirement plan (21%).
26% of Brits started saving for no particular reason
As for other reasons, 21% started saving after they turned a certain age, 10% started saving after they got their first job, and 9% said starting a family was why they began saving. Interestingly, more than a quarter (26%) of people claimed to have no specific reason to start saving.
More than half of pensions and investments complaints submitted to the Financial Ombudsman in 2018/19 were related to administration
Savings statistics would not be complete without a closer look at customer complaints. The most common of those registered with the Financial Ombudsman Service in the 2018/19 time period were complaints about administration (53%), followed by complaints about sales and advice (36%).
42% of all complaints in 2018/19 were regarding pension
Of all complaints regarding investment and pension services and products, those related to pensions (42%) were most commonly submitted to the Financial Ombudsman, followed by complaints about packaged investment products (18%), whole-of-life policies and savings endowments (12%), mortgage endowments (7%) and stockbroking (7%).
Two-thirds of Brits will hold onto their pandemic savings
The COVID-19 pandemic made many people postpone plans to, say, travel abroad, open a restaurant or organise a big wedding, leaving some UK citizens wondering what to do with the funds unexpectedly saved up.
A saving decisions survey conducted by Statista in the late summer of 2020 showed that 66.2% of respondents intend to hold their funds in a bank account, while others plan to spend their savings to buy stocks (10.3%) or make a house deposit (9.4%). Additionally, 63% of the adult UK population entered 2020 with debt, and 11.5% plan to spend their savings to pay off their debt.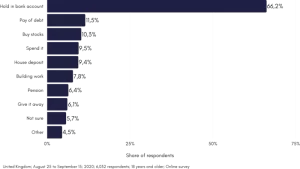 Household savings presented 0.74% of net disposable income in 2019
Compared to the peak UK value that stood at 6.89% in 2010, households saved a much lower portion of their net disposable income in 2019. We should also note household savings statistics for 2017 when savings presented a negative share (-0.04%) of the households disposable income.
The household saving ratio in the UK is predicted to grow to 7% by 2025
The above mentioned UK household savings ratio is used to express what part of a household's income is put aside as savings. For the third quarter of 2019, the household saving ratio was around 6%, almost half of its peak UK value – the one recorded in 2010.
In 2019/20, the average UK income was £29,900
In the 2011 – 2020 period, median household income increased by 7%, standing at £29,900 for the twelve months between April of 2019 and March of 2020.
Savings Statistics UK: Savings Account Statistics by Country
The
average UK savings
in 2019 were
£
2,061
When analysing average British savings, what we see between regions is a disproportion in sums saved up annually and how these sums fluctuate. The savings ratio – a proportion of income saved – is the key indicator to examine here.
England: Londoners kept 3,055 pounds or 7% of their income in 2018 and managed to set aside 11% (£3,962) in 2019. By savings ratio, South West (£1,892) is second on the list for 2019 and East of England (£1,921) third, both above the 9% mark.
Scotland: The Scottish put in greater saving efforts in 2019 than in 2018, with the region's saving ratio rising from 6% to 8% and savings increasing from £1,342 to £1,690.
Wales: Though their savings ratio didn't move from 9%, the Welsh saved more in 2019 (£1,990) compared to 2018 (£1,874).
North Ireland: Savers in North Ireland kept £1,583 – a smaller portion (7%) of their yearly income than the £1,974 they saved the year before (8%).
In London, buying a property instead of renting saves you 402 British pounds a month
Buying a flat or house is no easy endeavour, but it pays off in the long run, as savings statistics from 2020 confirm. You save most by purchasing a piece of real estate in London instead of renting it. In Scotland, you'd save £168 each month and a little less in Wales (£101). The last is Northern Ireland (£33), followed by East Midlands (£75).
The average monthly cost of buying a home for first-time buyers was £753 in 2020
It is no wonder that London's at the top of the list, yet again. It takes about 1,348 British pounds a month to get your place there. For most UK regions, the monthly costs of buying real estate are below the national average – £545 for Scotland, £536 for Wales and £437 for Northern Ireland.
Savings Stats UK: Most common forms of saving in the UK
22.5 million British households are included in a pension scheme
In 2018, UK's most popular savings vehicle was a pension scheme. 4.8 million households had whole-of-life insurance, 2.3 million had a private pension plan, and 0.6 million had term assurance. Worth noting is that of 26.5 million households in the UK, just 0.2 million had income protection.
The average cash individual savings account for the 2018 to 2019 time period held more than £5,000
Traditional individual savings accounts or ISAs enjoy great popularity as they provide tax-free withdrawals and interest with other benefits. UK saving stats for the 2018/19 tax year show that Brits had almost £5,200 in cash savings on average, not moving far from the year before. The 2014/2015 season saw the highest median sums with just over £5,900 in cash ISAs.
Sums in junior cash savings accounts diminished significantly from 2012 to 2019
Financial savings in minors' name lost importance in the past decade. The average cash sums in junior individual savings accounts gradually decreased from the 2012/13 season's £1,400 to £830 for 2018/19.
Savings in junior stocks and shares ISAs have been around the 1,500 pounds mark for three tax years
The amounts saved long-term in stocks and shares by individuals under 18 years of age have reached £1,656 in 2015/16, dropping to £1,480 the following tax year and remaining above £1,400 by 2019.
Most citizens of the UK would prefer a bank-issued financial app
When asked whose app they would deem more trustworthy, 61% of Brits claimed they'd trust an app provided by their bank more, while 30% said they would favour an app designed by a technology provider. 8% of people felt unsure or simply didn't know. It's worth mentioning that 21% of UK citizens that are already digital bank customers identified low saving rates as their biggest concern.
Savings Statistics UK: Conclusion
Besides teaching us the importance of good physical and mental health, the COVID-19 epidemic served as a stark reminder of the necessity of fiscal health gained through saving. Devoting oneself to setting proper funds aside for those rainy days is never a bad idea, indeed. 
While the average UK savings may be hard to reach and maintain in this era of financial uncertainty, one can feel sure a saving endeavour will be rewarding in not only a monetary sense. It will also give those properly saving a keen sense of control of their financial safety and confidence in their future's material security.
With such a mindset, we will know very well that what we spend is what we actually can afford to spend and will consequently hone our skills to gauge, prioritise and carefully execute the spending of our hard-earned money. Hey, we might even use an app to do some bits for us. No matter the case, our motto will surely be — "Better saved than sorry."
Alert! Your IP address is trackable.